"I Have Help From a Village" – Beta Chapter Selects 2016 Young Artisans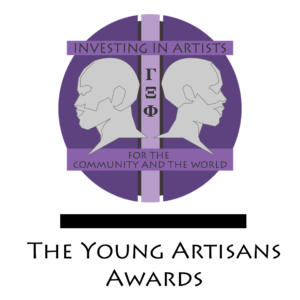 District of Columbia artists Sean Defreitas and Jeneesah Tate (also known as Ja'ness) have been selected as the 2016 Young Artisans for Gamma Xi Phi's Beta Chapter in Washington, DC. The award is the highest honor that the fraternity bestows upon youth.
"We are so happy and so proud to support these students, who represent the best of Washington's emerging talent," said Beta Chapter Program Director Shawn Spencer.
The Young Artisans Awards initiative was created by Gamma Xi Phi in 2015 to honor emerging artists living within the service areas of the chapters. The selected artists must display both artistic merit and artistic citizenship, including a willingness to learn, grow, serve, and be mentored.  The Beta Chapter, serving the District of Columbia, selected two students after months of research and observation of young artists living within the chapter's domain.
Sean Defreitas is a student attending the Latin American Youth Center Career Academy, located in the Columbia Heights neighborhood of Washington, DC.  His artistic interests are varied and include graphic design, photography, music, and fashion.  His mother and other family members are also engaged in the arts, namely music, visual art, and crafts.  Mr. Defreitas came highly recommended by the faculty and staff of LAYC Career Academy.
Ja'ness (Jeneesah Tate) is a Junior attending the historic Duke Ellington School of the Arts.  She is a singer, guitarist, and songwriter who has already created a name for herself in the Washington area and beyond through many public performances at festivals and music venues.  Coming from a long line of artists, Ja'ness strives to create a career that complements, but is independent from, her already successful family members.
Over the next few months, the awardees will benefit from the full support of Brothers and Sisters of Beta Chapter and beyond.  Members will provide the students with support and connections to working artists.  In March 2016, the awardees will participate in the Young Artisans Combine, a private day of training, coaching, and mentoring with some of the Washington area's most notable artists and professionals. In May 2016, the awardees will officially be presented to the community in a ceremony at Beta Chapter's Odeon, a community talent show.
National President Rashid Darden, who is a Washington-based novelist and member of Beta Chapter, expressed his pride at the selection of Ja'ness and Sean, saying "We needed humble students who would be their authentic, artistic selves when they didn't expect that anyone was evaluating them.  That's the beauty of the first year of this initiative–without the fanfare of previous years, we were able to find the most deserving students who weren't just seeking accolades for their resumes."
Mr. Atif Tate, father of Ja'ness, said that due to this honor, his daughter's "…positive actions towards her dreams are being noticed by others outside her family–which gives her more confidence to keep pushing through." He added "I have help from a village. My advice to other parents is to invest your time and energy into their dreams now and help them develop so this experience will help them grow into something great."
Gamma Xi Phi was founded on October 7, 2010, by Ramapo College men and women who were interested in creating strong bonds between students pursuing artistic careers. The purpose of the fraternity is to unite collegiate and professional artists in the spirit of fellowship and perpetual artistic growth. Gamma Xi Phi promotes philanthropy and service to the arts, brotherhood among all artists, and leadership development in artistic professions through collegiate and community outreach to people of color across the world.