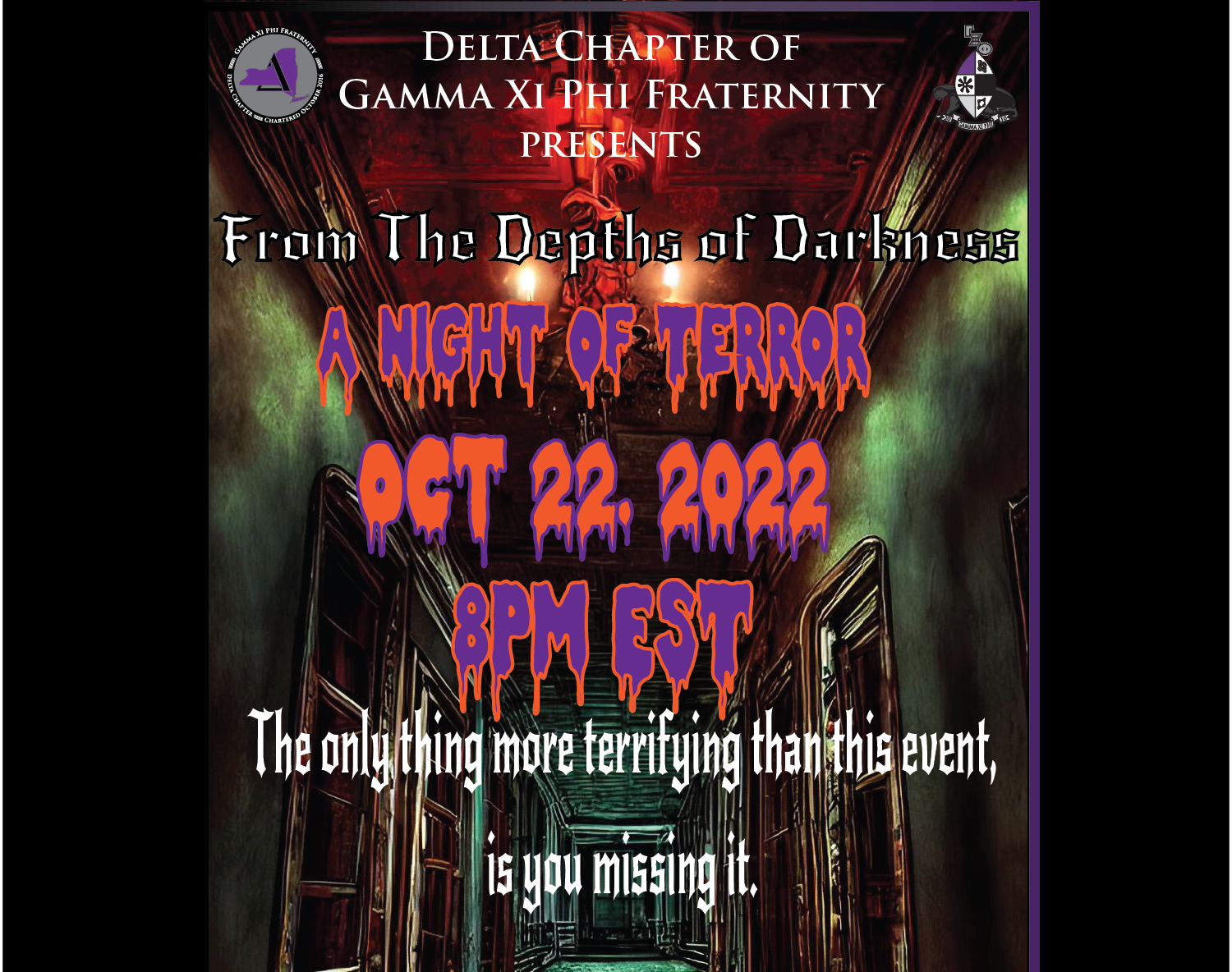 a gxp halloween spectacular
New York- Delta Chapter rings in Hallows Eve with a night of chilling stories
---
The Delta Chapter of Gamma Xi Phi brings the bone chill on October 22nd with their event: From The Depths of Darkness: A Night of Terror. A night filled to the brim with talent by some of our members blessed with the gift of storytelling and masters of the pen. Hosted by Brother Marc Abbott along with guest appearances from Sister La Toya Hankins, Brother Kirk Johnson and Brother Steven Van Patten, each brought their flare to the short stories they wrote for this night of horror. Truly a great way to kick off the spooky season!
A little about our authors participating in our event
Brother Marc Abbott, member of Delta Chapter and the host of our Event. An award-winning African American writer from Brooklyn, NY, with a portfolio of works that span genres such from Plays (his first novel, Gamble of Faith, having a 3-year run), YA novels, and in 2013 pivoting to the Horror genre. Flourishing in this genre, Brother Marc has created "Welcome to Brooklyn, Gabe" which is featured in the Bram Stoker nominated anthology New York State of Fright and "A Marked Man" featured in the Hell's Heart horror anthology. In 2019 he co-authored Hell at the Way Station, which he won two African American Literary Awards (Best Anthology/Best Science Fiction). The sequel, "Hell at Brooklyn Tea", was released in January 2021.
Sister La Toya Hankins is the author of SBF Seeking, and K-Rho: The Sweet Taste of Sisterhood, and the Program Director of the Theta Chapter. The North Carolina native is an East Carolina University graduate who earned her Bachelor of Arts degree in journalism with a minor in political science. She is a proud member of Zeta Phi Beta Sorority, Inc. and is the National Secretary for Gamma Xi Phi, a predominately African American organization of men and women in the arts.
Brother Steven Van Patten is a Brooklyn native and member of the Delta Chapter. The author of the critically acclaimed Brookwater's Curse trilogy and has had a hand in writing multiple anthology series such as, Hell's Kitties, Shopping List 4 and the Stoker Award nominated New York State of Fright
Along with a plethora of other honors and accolades, SVP won three African-African-American Literary Awards in 2019, two for Hell At The Way Station (Best Anthology and Best In Science Fiction) and one for Best Independent Publisher. He's also written episodes of the YouTube series', Extra Credit/Extra Mythology, and is currently a contributor for the Viral Vignettes, a charity-driven YouTube comedy series benefitting The Actor's Fund.
Brother Kirk Johnson, Trinidad born and raised is a writer currently now living in Brooklyn, is a member of the Delta Chapter. A man with a love for the weird/cosmic horror, heroic fantasy, and Sword & Soul. Having created many short stories and stories throughout his career. The creator of the "Far Afield Press" creating books like The Obanaax: And Other Tales of Heroes and Horrors and works being featured on books such as "Hell at Brooklyn Tea" and "Hell at the Way Station".
To watch this event please click on the link below!
Gamma Xi Phi was established in 2010 at Ramapo College to provide a fraternal outlet for students engaged in the arts. Today it maintains a presence of working artists from Vancouver, British Columbia, to the northeastern and southern regions of the United States.
###