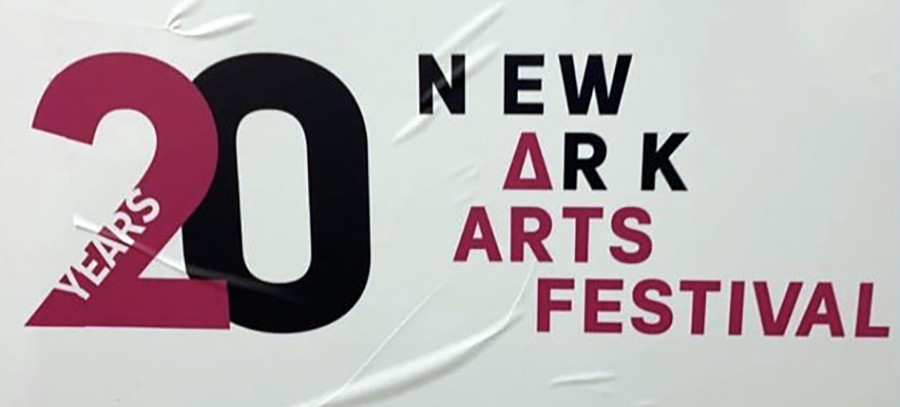 Gamma Chapter Celebrates 20 Years of the Newark Arts Festival
From October 8th -10th, 2021, the city of Newark celebrated 20 years of the Newark Arts Festival and the Brothers and Sisters of Gamma Chapter were there in full effect. On top of attending the 2021 Virtual National Convention for the Fraternity, members of Gamma Chapter were back and forth throughout many of the festival events.
On Friday night, Sister DaiJonae Clemons had her artwork featured in Lucid Noir. This event was sponsored by Femme Curator Arts.  Sister Clemons stated how she "loved the opportunity to showcase her artwork."
On Saturday night, Gamma Chapter was one of the sponsors for EvoluCulture Ventures, LLC's October installment of Evolution Dopen Mic. This was the seventh anniversary of the organization providing space for expression for all artists in the city of Newark. The night was filled with music, food, poetry, games, and community. Sister Treasure Borde, President of EvoluCulture Ventures, LLC, said "Gamma Chapter elevated the vibe in a major way. Having my GXP brothers and sisters present and performing further cemented our presence in the arts scene of our great city."
During the show Sister Ivelisse Tirado performed from original songs and Brother Malcolm Minor spoke about the chapter and organization. As a gift, Gamma chapter distributed goodie bags filled with candy, pens, and information on GXP to all attendees.
"It was an honor to have GXP in the building for EvoluCulture's 7th anniversary. I've known of them for years and we have had a similar mission in the arts, so it was only a matter of time before we worked together," said Sean Battle, Founder of EvoluCulture. "Their presence in the room help made our open mic further in creating a safe space for artists and art lovers."
On Sunday, Brother Malcolm Minor represented the chapter as a guest artist for the annual Men's Day at the Nia Fellowship Baptist Church. The Chairman of the celebration, Mr. Brian Fenderson, said that Brother Minor "ushered in the spirit, elevating the congregation to the next level in worship."
Gamma chapter is proud of the work that was done and is looking forward to taking part in a bigger way for Newark Arts Festival 2022.