Chidi Asoluka, founder and director of the New Community Project at Germantown Academy, addressed the artists of Gamma Xi Phi Professional Arts Fraternity at their biennial convention last Saturday.  He was the first non-member in history to address the fraternity while convention was in session.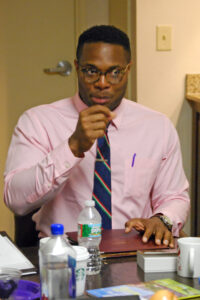 Mr. Asoluka, a graduate of Georgetown University and Rutgers University-Newark, is also a Senior Instructor of Upper School English and Alcott House Head at the 256 year old independent school in Fort Washington, Pennsylvania.
The New Community Project, according to Mr. Asoluka, combines design-thinking with an intensive study of literature in order to create, maintain, and intensify meaningful relationships between the participants and the city of Philadelphia.  This year's New Community Project partner was Tree House Books, a literacy advocacy group in North Central Philadelphia.
During the remarks, Mr. Asoluka shared anecdotes about how the participants were able to expand their worldview well outside of the classroom while growing into conscious young women and men who care about service and social justice—ideals which are also important to Gamma Xi Phi members.
"Chidi gave us a lot to think about as we continue to serve our communities in artistic ways," National President Rashid Darden said.  "His work is innovative, if not genius, in the way that it weaves together literature with real-life problem solving and philanthropy.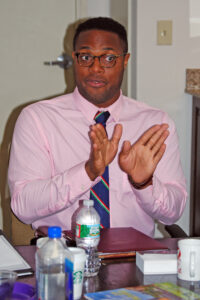 The remarks turned into a lively discussion that continued well into the lunch hour, with Mr. Asoluka staying on to share stories of his own journey from his boyhood in Newark, New Jersey to his vision for the future of the New Community Project.  Brothers and Sisters of Gamma Xi Phi walked away from the conversation energized and inspired to mentor students in similar programs in their home cities.
The New Community Project website is www.thenewcomproject.org.  Its Facebook page is www.facebook.com/thenewcomproject.
Gamma Xi Phi was founded on October 7, 2010, by Ramapo College men and women who were interested in creating strong bonds between students pursuing artistic careers. The purpose of the fraternity is to unite collegiate and professional artists in the spirit of fellowship and perpetual artistic growth. Gamma Xi Phi promotes philanthropy and service to the arts, brotherhood among all artists, and leadership development in artistic professions through collegiate and community outreach to people of color across the world.