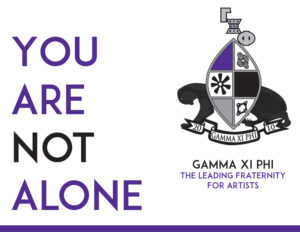 Membership in Gamma Xi Phi Professional Arts Fraternity is open to men and women who possess or are in pursuit of careers in the arts, including literature, music, theater, visual arts, and architecture; and professionals whose work supports the arts, such as agents, entertainment lawyers, and arts educators.
Consider the benefits of membership in Gamma Xi Phi.  The fraternity provides networking opportunities through our members and allies; professional and personal leadership development; artistic collaboration; and friendships with peers, mentors, and protégés.
The Gamma Xi Phi membership process is treated as a serious commitment by the Brothers and Sisters. The fraternity expects demonstration of that same commitment from applicants.
We encourage you to investigate all of your options of artistic fraternal organizations.  Should you find that Gamma Xi Phi is your top choice, please submit an application packet at any time.
All further membership information may be found in this brochure.
Please read it in its entirety before beginning your application.
Applications are accepted on a rolling basis.

Join