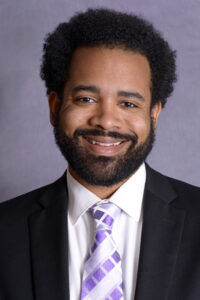 Rashid Darden is the National President of Gamma Xi Phi Professional Arts Fraternity, Inc.   He has served the fraternity as National Executive Director, Chairman of the Membership Committee, and consultant to Alpha Chapter.  Darden has also worked with the Ritual and Expansion Committees.  He became a member of Gamma Xi Phi upon the chartering of Beta Chapter in Washington, DC, on October 3, 2011.
Mr. Darden is a novelist.  His works include Lazarus, Covenant, Epiphany, and Birth of a Dark Nation.  He also wrote a volume of poetry called The Life and Death of Savion Cortez.  An interview with Rashid was published in Carry the Word: A Bibliography of Black LGBTQ Books and he was awarded honors in the field of Literature from Clik Magazine.
As a public speaker, Mr. Darden has given lectures and workshops at American, California State (Los Angeles) Catholic, Duke, Georgetown, Howard, and Ohio Universities; the University of Maryland, College Park; and Ramapo College of New Jersey.  Further significant presentations were made at conferences for Alpha Phi Omega National Service Fraternity, Lambda Psi Delta Multicultural Sorority, and the National Multicultural Greek Council.  He is a frequent panelist at DC Black Pride and OutwriteDC.  He has also spoken at the Coretta Scott King Young Women's Leadership Academy and his alma mater, Calvin Coolidge High School in Washington, DC
Rashid Darden is a graduate of Georgetown University where he founded the Georgetown University Step Team.  At Georgetown, Darden was a resident of the Black House and active member of the NAACP, Black Student Alliance, and Alpha Phi Omega.  He was a photographer for Ye Domesday Booke, the yearbook for the university.
Mr. Darden was the Founding Chairman of the Arts and Humanities Advisory Council of Alpha Phi Alpha Fraternity, Inc., which he joined as an alumni initiate in 2003.  He has also been actively involved in Alpha Phi Omega National Service Fraternity on the chapter, alumni association, section, region, and national levels.  He has served as Interim Chairman of the Georgetown University African American Advisory Board.
In addition to writing, Rashid is also a photographer and Outreach Manager for the DC Recovery Community Alliance.  He currently resides in the District of Columbia.
National President's Itinerary
Saturday, August 15, 2015
A Celebration of Service and Fraternalism
Washington, District of Columbia
Wednesday, October 7, 2015
Founders' Day Celebration
Thursday, October 29, 2015
30th Annual Mayor's Arts Awards
Washington, District of Columbia
Monday, November 9 through Wednesday, November 11, 1015
Expansion Meetings
New Orleans, Louisiana
March 2016
National Arts Advocacy Day
Washington, District of Columbia
April 2016
Washington, DC Arts Advocacy Day
Friday, June 10 through Sunday, June 12, 2016
Gamma Leadership Weekend
Baltimore, Maryland
Friday, June 17 through Sunday, June 19, 2016
Americans for the Arts National Convention
Boston, Massachusetts
Rashid Darden