Delta Chapter Screens Extra Credits
The Delta Chapter of Gamma Xi Phi, the nation's leading fraternity for artists, recently sponsored a viewing party for Black history-themed episodes the web series Extra Credits, written by chapter member Steven Van Patten.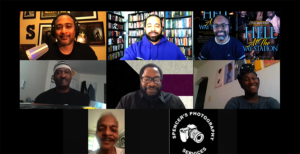 Shortly after the slaying of George Floyd in May of 2020, producers for Extra Credits approached Brother Van Patten to participate.  Their goal was to add episodes focused on Black history to their already vast catalogue of animated vignettes that feature everything from the life and times of Genghis Khan to the mythology of the Easter egg. 
Brother Van Patten, an awarded author of horror and dark fiction, had already written episodes for the mythology wing of the channel. Jumping at the chance to tackle Black history, he gave the folks at EC a list of subjects he wanted to address. Still other topics would be added by to the list by sponsors. 
While a handful of the episodes have yet to be released, Delta Chapter was happy to host a viewing party with those that were available. The subjects varied, from the burning of "Black Wall Street" to the troubles black heavyweight faced outside the ring. Most of the episodes left the audience visibly disturbed. However, the general consensus among the attendees was that while uncomfortable to watch, these videos could help change the paradigm and the conversations currently being had all over the country.
When asked which episode was the hardest for him to work on, Brother Van Patten explained that most of them were difficult. The yet-to-be released episode on the assassination of Medgar Evers was the one that had reduced him to tears and forced to him have to step away for a few hours.
Delta Chapter encourages the public to gird themselves and go down this Black history rabbit hole with Brother Van Patten.
The Burning of Black Wall Street - Tulsa, OK - Extra History
The Harlem Hellfighters - The 369th Infantry - Extra History
The Harlem Renaissance - An Explosion of Art - Extra History
Redlining - Income and Housing Inequality - Extra History
Black Boxing Heavyweights - Jack Johnson, Joe Louis, & Muhammad Ali - Extra History
Interstate Displacement - The Legacy of Robert Moses - Extra History