Delta Chapter Established in New York City
Gamma Xi Phi, the professional fraternity for artists, announces the chartering of its newest chapter. Delta Chapter, chartered on October 8, 2016, will serve the five boroughs of New York City.
Five new members were initiated in a ceremony attended by members of the National Board of Trustees, honorary members, and Brothers and Sisters from Alpha Chapter at Ramapo College of New Jersey and Beta Chapter in the District of Columbia.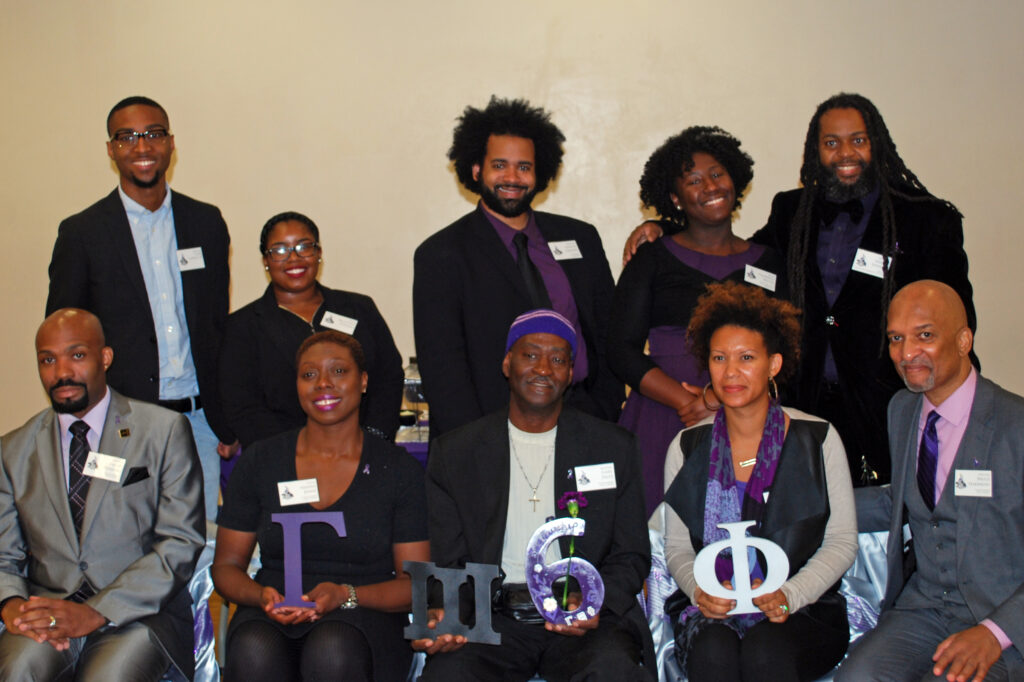 "I certainly consider Delta a flagship chapter," said National President Rashid Darden. "New York, the home of the Harlem Renaissance and many other significant movements, is the kind of place where the fraternity will thrive—and Daren, Gary, Bruce, Shaina, and Candice are the right people at the right time for our mission."
In remarks to the audience assembled, Darden compared the now six-year-old organization to a child starting first grade.
"We remember so little from our early years, but everything we did served as the foundation for who we are now. We fell, we made mistakes, and we cried. But we got up and we kept going. So, too, will Gamma Xi Phi continue onward."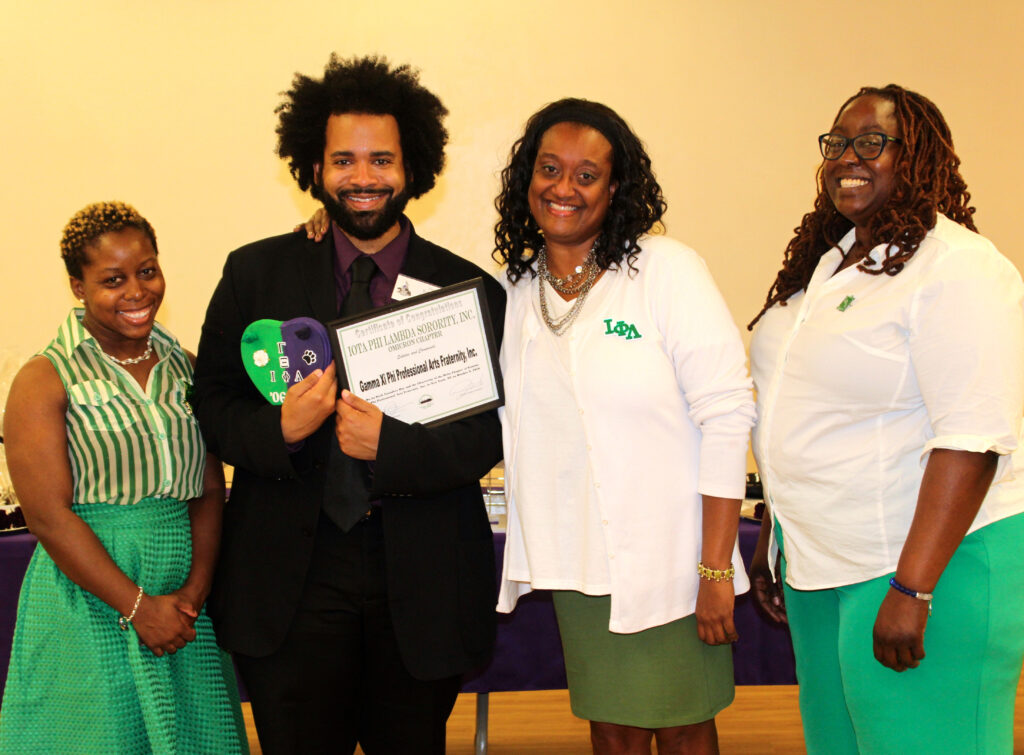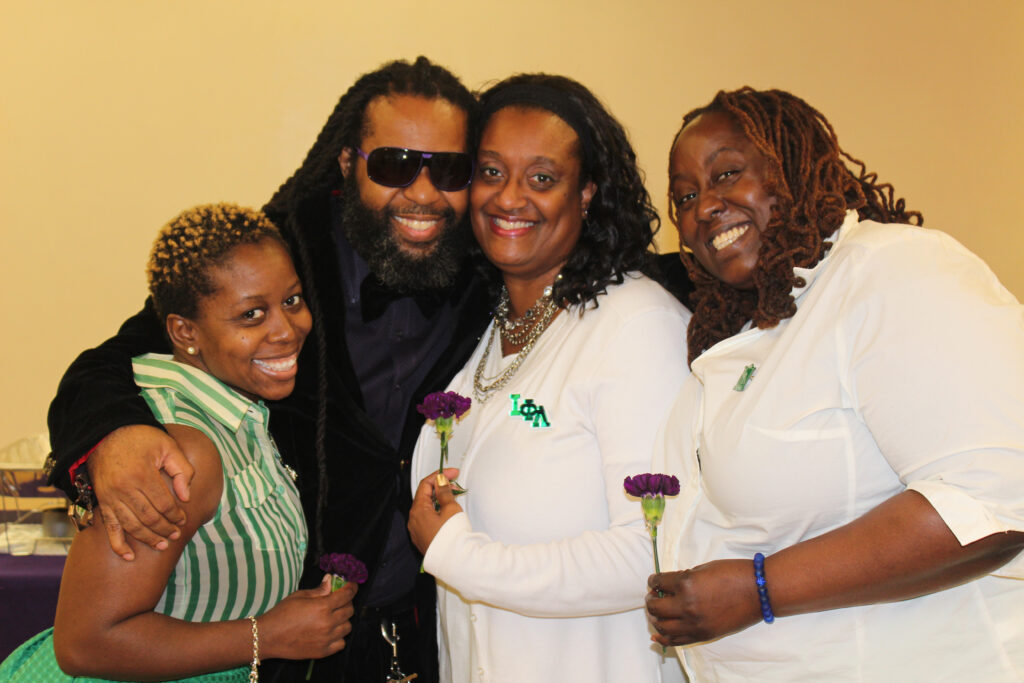 The fraternity was presented with acknowledgements from the Omicron Chapter of Iota Phi Lambda Sorority, Inc., who also brought gifts for the new initiates.
Delta Chapter was chartered with five brothers and sisters: Daren J. Fleming, Gary Fritz, Bruce Hawkins, Shaina Jones, and Candice Sanchez-McFarlane, who each gave remarks to the assembled guests.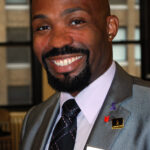 Daren J. Fleming is an actor, writer, and comedian whose talents have spanned theater, film & television, as well as literature. He starred as "Terry" in LOGO TV's first original feature-film The Ski Trip. Some of his theater credits include The Hip-Hop Misanthrope, Julian & Romero, and for 10 years he appeared as the glamorous yet zany co-host "Miss Grenadine Ross" in the Off-Broadway game show The Ultimate Drag Off. A member of SAG-AFTRA, Daren is a graduate of the American Musical and Dramatic Academy in New York and is a magna cum laude graduate of The New School, where he studied creative writing. His autobiographical essay, "The Night Diana Died" was included in the 2012 anthology For Colored Boys…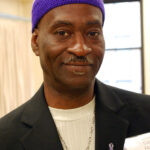 Gary Fritz is a prolific, well-traveled musician. Born to two artists (a dancer/model and a drummer/percussionist), Gary began studying piano at age five and had his first recital at age six. Making the decision to pursue a career as a professional musician while attending the historic Lincoln University in Pennsylvania, Gary has used his talents in a wide variety of musical styles, from big band to folk and everything in between. He has toured internationally since 1991. His credits include Alvin Ailey American Dance Theatre, George Benson, The Brand New Heavies, Reverend James Cleveland, Roberta Flack, Valerie Simpson, the Winans, and many more.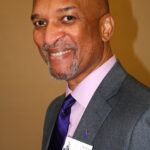 Bruce Hawkins is an award-winning actor, model, dancer, puppeteer, visual artist, and professional make-up artist. A Theater Arts honors graduate of Morgan State College (now university), Bruce appeared in The Me Nobody Knows, The Champeen', Golden Boy, Cotton Club Revue with Cab Calloway, and played the Scarecrow in the touring company of The Wiz. His TV acting credits include Guiding Light, All My Children, One Life to Live, Chappelle's Show, Law and Order, 30 Rock, Kojak, The Equalizer, and many other independent films and movies. Bruce is a recipient of the Screen Actor's Guild Joseph C. Riley Service Award.
Bruce has danced in six New York-based Black dance companies and traveled and taught dance all over the world, working personally with many renowned choreographers and instructors. Before he retired from dancing in 1995, Bruce taught for several years on the professional dance faculty of the Alvin Ailey American Dance Theater. He has also taught ballet, modern and jazz dance as an adjunct professor of dance and guest artist at SUNY Purchase, New York University, Adelphi University, Lehman College for the Performing Arts and The University of Washington.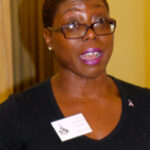 Shaina Jones is an intellectual property attorney with an interest and focus on the arts, creativity, and innovation. A long-time patron of the arts, Shaina is now using her legal acumen to engage in creative projects representing communities of women and communities of color. Shaina is proud to be an Ambassador of the National Museum of African American History and Culture. Shaina is a graduate of Georgetown University, James E. Beasley School of Law at Temple University, and Benjamin N. Cardozo School of Law at Yeshiva University.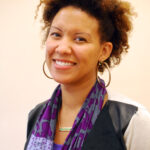 Candice Sanchez-McFarlane is Vice President of Creative & Integrated Strategy at Ping Mobile. As a creative professional for the entirety of her career, she has deftly woven business and technology with the arts to achieve positive results for her clients. Over the years, she has created integrated campaigns for such brands as Warner Brothers, Universal Pictures, Axe, and Degree. Described as an "outstanding leader" by her colleagues, Candice also maintains an active career as a writer and producer, earning her a Creative Promise Award from the Tribeca Film Festival in 2008. Candice is a graduate of Georgetown University.
Gamma Xi Phi was founded on October 7, 2010, by Ramapo College men and women who were interested in creating strong bonds between students pursuing artistic careers. The purpose of the fraternity is to unite collegiate and professional artists in the spirit of fellowship and perpetual artistic growth. Gamma Xi Phi promotes philanthropy and service to the arts, brotherhood among all artists, and leadership development in artistic professions through collegiate and community outreach to people of color across the world.