Fresh Air From New Jersey: Meet Ess Vee
Like Gamma Xi Phi itself, hip-hop artist and producer Ess Vee was born and raised in the state of New Jersey.  Born in Newark and raised in Irvington, Ess Vee's admirable work ethic and unbridled talent are bringing something old and something new to hip-hop.
Ess Vee is no stranger to the diverse experiences of the black man in America and he masterfully captures these experiences in his latest project.  His flow is smooth and eloquent; his message is powerful.
National Executive Director Rashid Darden interviewed Ess Vee on Thursday, September 27, 2012, the date of release for Ess Vee's The Anecdote: Memoirs of S. Victor.
Rashid Darden: First of all, congratulations on dropping The Anecdote: Memoirs of S. Victor today! It must be a great feeling for you.
Ess Vee: Surreal.. very surreal… I have so many songs, so to finally choose the ones that made the cut was a process. My phone hasn't stopped buzzing yet!
RD: Ess Vee, who are you?
Ess Vee: Who am I? That's like one of the hardest questions a person can ask. I am a free spirit who loves to create. I'm a breath of fresh air coming out of New Jersey. I remain true to myself and refuse to give in to what "society says."
RD: Growing up in any city, we all know people who had aspirations of being a rap star or recording artist when they "grew up." Well now you are grown up and you are well on your way. Was there anything about your childhood that made you different from all the other aspiring recording artists out there?
Ess Vee: Yeah, I actually always wanted to stand out; be different. Whenever people suggested I do things one way, I would always turn around do the opposite or something completely different. A rebel, if you may. When it came to the music, I always challenged myself to make my songs sound as different as possible. Even now, if I feel that a song sounds cliche, best believe I'll find a way to make sound like my own.
RD: It's funny you should say that because (in my estimation, as a non-critic) in your desire to be different from the pack, you actually hearken back to an earlier time in hip-hop. Your sound, to me, is a little more universal, a little heavier, and really is true hip-hop. Not to say the other things we hear aren't hip-hop, but that your style is one that true (and old) hip-hop heads can appreciate. So obviously, your efforts to be different are working.
Ess Vee: Definitely! I've always said that when I make my music, I want my music to be timeless. That, in itself, isn't easy to do. So I literally spend hours when either writing or coming with ideas just for one song. I'm sure you can hear what I mean when you listen to a song of mine, especially the ones that sound "deep." I always put my all into every record. The records that I don't give my all you'll probably never hear. [laughs]  Being universal is key. It helps you become more marketable in my opinion. So I definitely try not sound linear. Besides, I'm always expanding my sound.
RD: Absolutely. Let's move on from the craft to the business.
Ess Vee:  Alright.
RD:  Your official bio talks about the collaboration between you and your brothers in music, production, and graphic design. What are some of the challenges and some of the rewards of working with family on business? Would you recommend it?
Ess Vee: I would definitely recommend it! Well, it all depends on how your family functions. With my brothers, we have a great relationship. We all respect each other's decisions, and we always bring new ideas to the table. There's never a dull moment when you get to create and build with, in my case, two people who I've known my entire life. The only downside is arguments and fights are inevitable, we're brothers it's what we do! [laughs]
RD: True. And of course, the reality show just writes itself at that point…
Ess Vee:  Reality show… with us? That would be something to watch! [laughs]
RD: Are your parents or other older relatives participants in the business aspects of your craft?
Ess Vee: Yeah my mom has been very supportive but you know how it goes in the beginning. She didn't understand it at first but as time went on, and she actually got to see what I was really doing, she definitely gave me the green-light of support.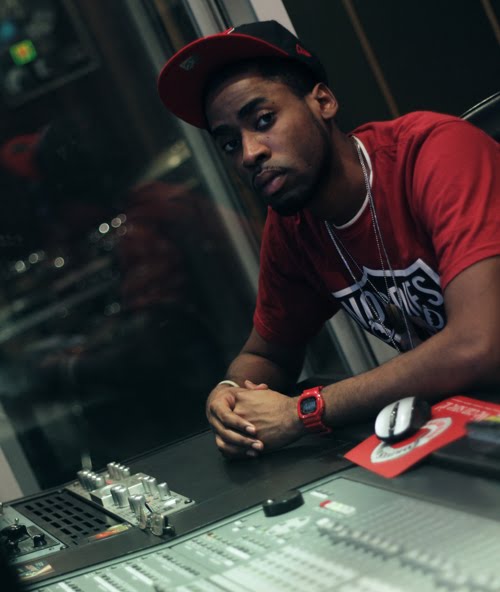 RD: Who are some of your musical inspirations?
Ess Vee: Michael Jackson hands down. He's inspired people and the music culture in so many ways. I can go on and on. The main thing about Michael is that despite the dirt thrown in his face, he kept shining and basically didn't care what people had to say. Like me, Michael spoke through his music. With certain songs he spoke to his fans. So I guess you can say that's where I picked it up from. Present day, I would have to go with Nas. Why Nas? He's my favorite emcee. He brings a different craft to the table which no one can mimic, and he's stayed relevant with his own style still without ever changing who he is.
RD: So if you were to listen to one hip-hop album for the rest of your life, like on a deserted island, would it be Illmatic?
Ess Vee:  As much as everyone would say Illmatic, I'd go with Stillmatic. Now THAT album is dope for more reasons than one.
RD: I know this might be hard, like asking to choose your favorite child, but if you were to choose just one of your tracks to be your signature, introductory song to the world, which one would it be?
Ess Vee: Wow!… that's a tough one, give me a sec.
[Ess Vee's "Weirdo" begins playing.  "Weirdo" samples the Scala and Kolacny Brothers version of Radiohead's "Creep."  Brother Darden gives an excited reaction.]
Download Ess Vee's Mixtape and listen for yourself
Ess Vee: Nothing like turning a classic into another classic!  I would have to go with "Weirdo" for now… It perfectly describes my past situation and how I made it my business to pursue my music career.
RD: Who are some people in the industry that you've worked with or have helped you out along the way?
Ess Vee: I haven't really worked with any one in particular–yet. That remains to be seen. It's funny, with everything that I've recently accomplished so far, you would think that someone or a few people were behind me, but that's not the case. You just never know who I may be working with in the near future though!
RD: What's the biggest lesson you've learned as an emerging artist? What's one mistake you hope every emerging artist should avoid?
Ess Vee:  The biggest lesson I've learned as an emerging artist is to take your time! I've sat back and watched several artists make this mistake. That's the mistake that I feel every artist should avoid. For one, there are too many "snakes in the grass" so you have to be careful with who you work with, especially when money is involved. I'm sure you can read about a few artists who rushed into a major label situation and they aren't happy. Why? It's because they didn't take their time.
RD: Do you have any advice for those college students in GXP or otherwise who are trying to do their thing as artists and students at the same time?
Ess Vee: [Time management] and networking! You have to be able to time everything out. Use a calendar and plan ahead of time so that way your school work and your music don't clash. You want to be able to be multitalented and educated, so definitely balance everything out for the long run.
Networking is very essential. A lot of people don't realize the power of networking at all. People know people and so on and so forth. One thing that I can say that has helped me out is that I refuse to burn bridges because you never know who knows who and when that person may be needed.
Let's not forget positive energy!
RD: Ess Vee, thank you very much on behalf of Gamma Xi Phi for taking time out on your release date to talk to us.
Ess Vee:  Thanks for having me! I definitely appreciate you taking the time out to interview me and listening to The Anecdote: Memoirs of S. Victor!